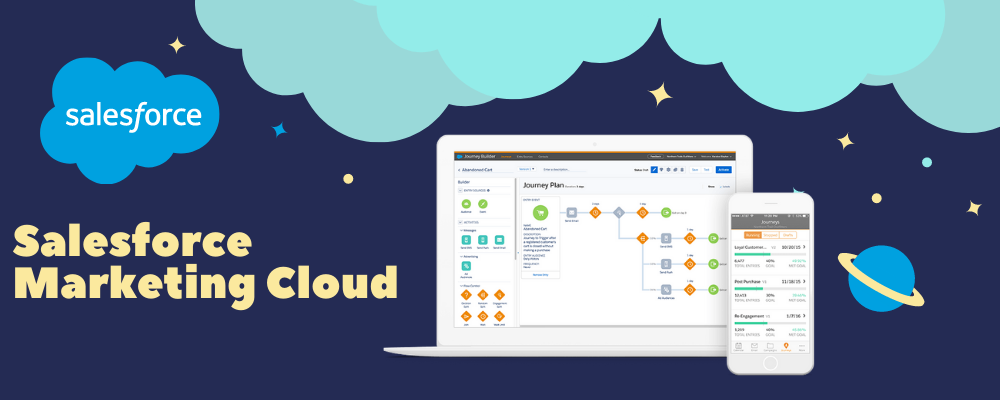 Read Time:
6 Minute, 11 Second
Cloud computing has become the future of digital companies. They are mostly using cloud-hosted solutions for their underlying activities such as managing resources, handling projects, or communicating with clients. In digital business, the business is not just limited to selling products or services but also maintaining a good relationship with the client is highly essential.
Marketing is all about CRM i.e. Customer Relationship Management. It is the core principle upon which all digital businesses are based.
In this article, we are going to discuss the most popular CRM for your business i.e. Salesforce marketing cloud. Salesforce is a popular software company with its USP of CRM solutions for businesses of different niches.
In this article, we will be knowing about the Salesforce Marketing Cloud in detail, along with its features & benefits.
What Is Salesforce Marketing Cloud?
Salesforce Marketing Cloud was initially known as Exact Target. It is the marketing product of the Salesforce products family. The digital marketing arm of your enterprise or organization can use it for creating personalized e-mail communications for better customer management and marketing ROI.
Knowing the features of the Salesforce Marketing Cloud will help you in creating better customer journeys and improving customer engagement with brands on different e-mail channels including web, mobile, social, and ads.
Of all the features of the Salesforce Marketing Cloud, E-mail marketing features is one of the most used features which is also scalable and comprehensive. You can use it for promotional campaigns, automated campaigns, sending personalized e-mails, transactional notification e-mails, etc. all with integrated predictive intelligence to drive 1-11 e-mail customer journeys.
It has become highly important to create personalized relationships with your customers. For this, there is a feature in the Salesforce Marketing cloud i.e. Journey Builder. You can use it for orchestrating targeted, individualized customer journeys across different channels & devices.
In-Depth Features Of The Salesforce Marketing Cloud
Execute E-mail Marketing Campaigns
E-mail marketing is one of the best & proven strategies for improving your customer relationship, especially in e-commerce. There are tools offered by Salesforce Marketing for executing customer interactions, doesn't matter how basic or sophisticated a marketer would like to be.
You can put together a sophisticated e-mail marketing campaign, with drag & drop abilities, and native predictive intelligence content recommendations. You can also use dynamic content, JS, and AMPscript.
Personalized Experiences Creation at Scale
Your marketing team can create personalized customer journeys at different levels, multiple sales, and marketing channels. It will help in providing an omnichannel experience and unifying the identity of the brand. The customers will also get a seamless experience, doesn't matter which channel or device they are using.
You just need to sign in to the Salesforce Marketing Cloud to begin mapping the customer journey. You can have full control over how the customers will interact with your brand through their real-time interactions to test multiple variations of e-mail content.
Tracking Customer Actions
You can seamlessly track every action of customers by advanced web marketing tools on all channels such as e-mail, web, mobile, and social. Web personalization, in particular, engages customers with personalized content.
When you use web personalization, the Salesforce Marketing Cloud will personalize the content on the basis of your web pages of the individual customer. After that, you can accumulate behavioural data for product recommendations or offers.
Understand the Preferences of Customers
Salesforce Marketing Cloud leverages data science to know what is going inside the customers' heads. They try to track customer preferences and optimize for every interaction automatically. This optimization is done on multiple channels.
Salesforce Marketing Cloud can be used for creating its own predictive profiles for every contact in the CRM. You can then infer customer preferences, or configure predictive content using the drag-and-drop tools that the solution provides.
Overview of Salesforce Marketing Cloud Features
Messaging Service
Drag-and-drop segmentation
1:1 content personalization
CRM and cross-channel integration
Real-time tracking
Pre-built templates
Deliverability tools
Marketing Automation
Predictive Intelligence
Benefits of Salesforce Marketing Cloud
There are many different advantages of salesforce implementation for a business. We have listed only the main ones. Here are those:
1. Customization
You can customize your online marketing tools to your market base using Salesforce. It will help you in giving a personal touch to the customers without any hassle. You can use integrated steps to know the requirements of your customers. It will help in touching the different aspects of the customer and thus using it for management and better functionality of the motives to increase profits.
2. Understanding
When businesses, companies, or organizations have a better understanding of the psychology of their customers then they become more reliable than others. For growing your business, you must be adaptable to new changes in the market. Here Salesforce is highly helpful.
It helps you prepare for the market changes when it comes to the variability of customers. You will also be able to understand the shift in the pattern of customers.
3. Security
You can avoid any misuse of data using the Salesforce Marketing Cloud. It can protect your business data from any harm by business rivals. It can even encrypt the data between your company and the customer. It is a very secure platform that you can use for protecting your customers from any unfair roots.
Also, when the customers feel better security they'll become more accustomed to your business and can result in long-term patrons. Hence, security plays a major role in customer and company management, and you can get it at its best only on Salesforce.
4. Sales
There should be no qualm in accepting the fact that if you use the Salesforce marketing cloud, then it will increase your sales. The increase in sales is directly related to your understanding of customers and how much security you provide to them.
Also, it comes with some particular platforms or apps, which can help you to connect with your customers through one touch. Data analytics also come with Salesforce at a very affordable price. It is easier to focus on big data to increment sales by a particular percentage.
5. Innovation
Since you don't need to take any tension in sales and have a lot of time to engage with your customers, then you can use this time for innovation. Here Salesforce is highly recommended. You can create innovative ideas by using this platform.
6. Decision Making
When all the above-mentioned steps are taken properly, the most crucial step i.e. decision-making step takes place. Now you can easily make the best decisions when you have curated information presented professionally.
The information is represented to you graphically in the Salesforce marketing cloud. It helps in visualizing future needs which helps in making better decisions.
7. Engagement Making & Customer Satisfaction
Last but not least, after so much hard work or effort, it is guaranteed that the customers will get happy. And if they are satisfied then you will be satisfied too.
Wrapping Up
Salesforce is not only about buying or selling but it is a platform that meets your many different unknown requirements. So, if you are working on a project with Salesforce at its core then getting in touch with a salesforce consulting company that is providing Salesforce implementation services is a good idea.