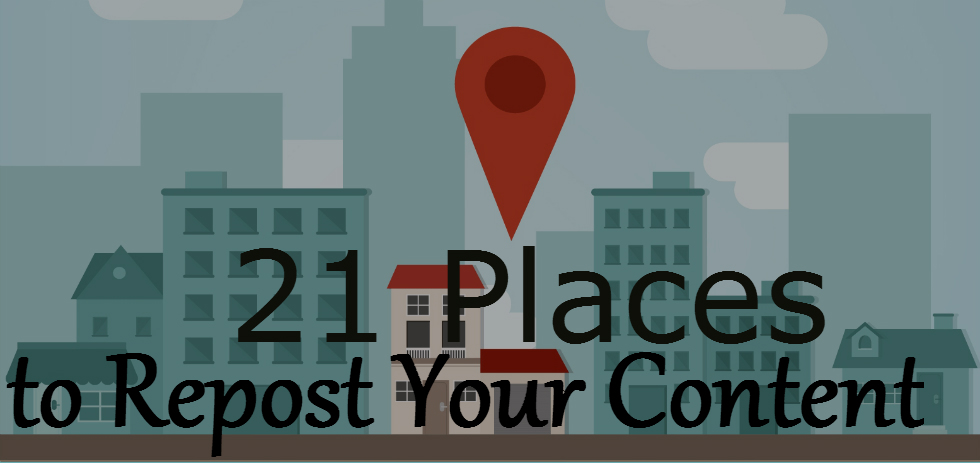 Read Time:
6 Minute, 26 Second
Bloggers devote a long time to creating high-quality content to publish and promote it on different social media channels. Is it enough to viral your post? No.
To reach out to your potential customers you have to expand your content reach throughout the internet.
Repurposing of content plays a vital role after publishing content on your specified channels. A little effort of repurposing did your job well and attracts more clicks and audiences than a simple publication.
So, reporting quality content on different platforms will help in approaching a wide audience reach, and to solve this purpose here we collected 25 top-notch places to repurpose your content:
Whenever I think of repurposing my stuff, the first name that clicks in my mind is Quora – a most famous question and answer site that allows you to share your content with millions of users. What I like most is its simplicity; simply create your profile and post your content with a backlink to your original post.
Medium is a blogging and social media platform that provides a base for users to republish or repost their content easily. It is the most trending and popular place to cross-purpose your content nowadays. Before posting content, you need to log in to your Twitter account to get full access to the website.
As LinkedIn also announced offering a content submission facility through the profile, it is now one of the favorite places to cross-promote blog content. You can also share your content in LinkedIn groups to engage targeted users apart from your direct connections.
Inbound.org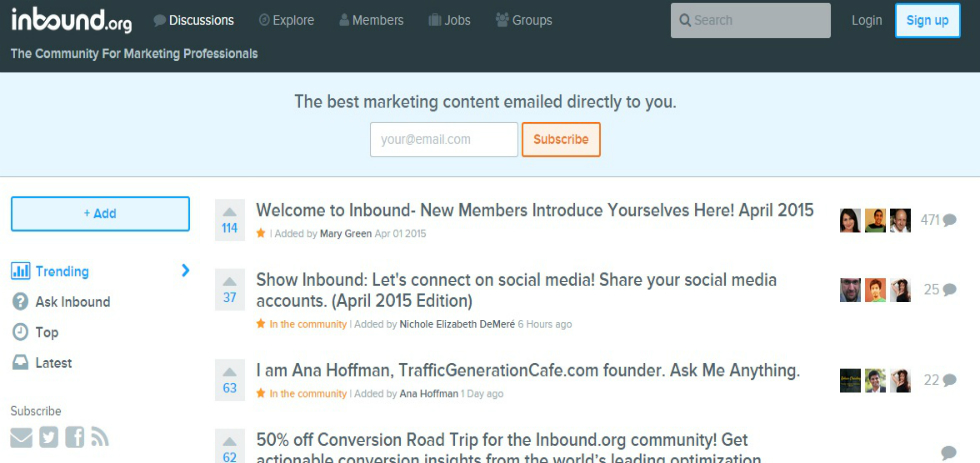 It is a community started by Dharmesh Shah (Hubspot.com) and Rand Fishkin (Moz.com) in 2011. Previously, it allows the submission of all-time most up-voted articles, but now it is a platform for many professionals where they can share and discuss the latest news and their knowledge with the inbound community. You can also submit good content by simply entering the title and URL of the blog post, but please be careful of community guidelines. (Note: The domain is expired now.)
GrowthHackers.com is a community to learn and share about ethical online marketing techniques that drive effective, scalable, and sustainable growth.
It is a similar concept like Inbound.org allows submissions related to growth hacking, marketing, and startups. You can also ask any question by putting the prefix "Ask GH" at the beginning of your question's title. Similar to inbound.org, it also has a list of guidelines to keep post qualities and avoid repetition. (Note: Not a community now.)
Reddit is a well-known online community where users post to blogs or news links. Here content of value is "upvoted" and worthless content is "downvoted" by registered users. All content is moderated by the community staff and the content voted higher will place on the front page of Reddit.
Bizsugar is a social networking and blogging platform for small business communities. Registered users can submit and share content related to small businesses, entrepreneurship, and startups. After submission, the bizsugar community votes on the content, and the highest voted content gets the benefit of the home page.
Document Sharing
SlideShare is the worldwide famous platform for posting PPT, PDF, and Infographics. Before posting, you have to turn your blog content into a slideshow with the help of PowerPoint, Haiku Deck, or other online available software and then simply upload your slideshow in PPT or PDF format on SlideShare.
Scribd is an open platform for publishing PPT, PDF, ebooks and document sharing of all genres. According to states, 80 million readers monthly reach Scribd from 194 countries all over the world. The benefit of publishing content on Scribd, it shares content to a wide array of audiences globally and you can also make money by selling your content.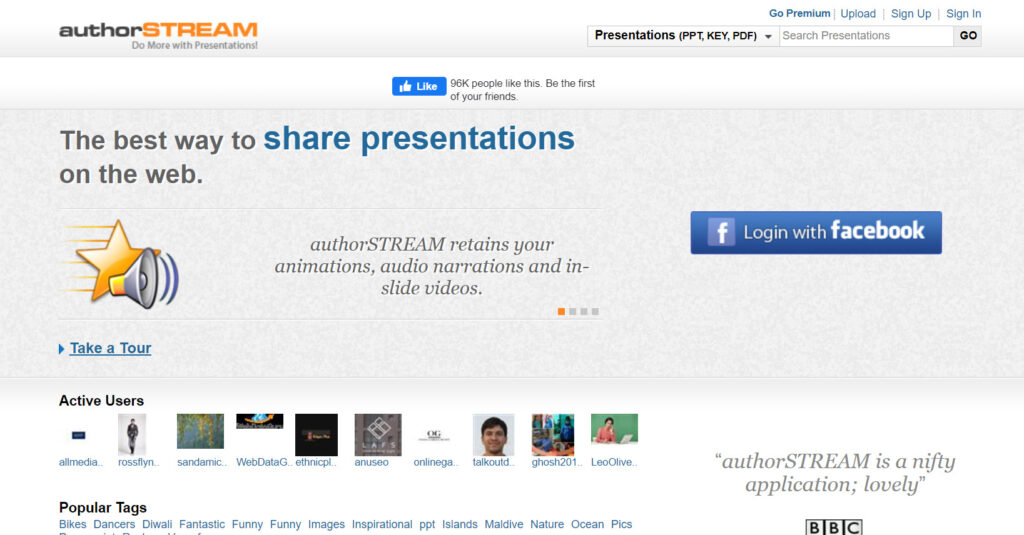 AuthorStream is another best platform to share PPT or PDF publicly as well as privately, for free. In 3 simple steps, you can present your content among people. Just register, upload your document file, and start sharing your content on social channels. You can also convert your PPT to video using the AuthorStream platform.
Docstoc
As the tagline suggests "We make every small business better", Docstoc helps small businesses to grow by providing a platform for sharing articles, presentations, and PDF files. Docstoc offers a free plan to upload and access a wide range of content as well as monthly membership plans to approach premium content with some advanced facilities. (Note: Domain expired now.)
SlideBoom

,

SlideWorld

, 

SlideRocket
Similar to the above slide share websites! If you are creating PPT or PDF, you might consider these websites as well for repurposing your content. (Note: All 3 mentioned sites are not working as of May 2022.)
Web 2.0 Portals
WordPress is a free blogging and content management system mostly used to create micro-site or free-to-use blog sites. You can create a WordPress-hosted blog in three steps: register on wordpress.com, decide your sub-domain name, choose a theme, and you are done. It is the best platform to repost your articles and blogs with an original backlink to your website. You can also post images, quotes, and videos on this platform.
Blogspot or Blogger is another free blog-publishing platform that was acquired by Google Inc for Pyra Labs in the year 2003. Like WordPress, you don't need to go through the lengthy sign-up process here because your Gmail account automatically creates a Blogspot account for you.  Choose your template and start posting your content here. Blogspot also connects you with Google plus to help you reach your new audiences easily.
Tumblr is a blogging cum social networking website where you can post pictures, quotes, links and blog content too. You can connect with any people by following them. Content sharing is quite easy here at Tumblr by just clicking on the reblogging link to share content. What do you expect more for reposting or republishing your content on Tumblr?
Founded in 2006, Weebly is a platform for creating websites or blogs using drag and drop functionality. In comparison with the above three platforms, Weebly is not much popular service for blogging purposes, but if we check stats, around 12 million people are using Weebly as a blog site. So, it is another good place to repurpose your content and share it on different channels.
Infographic Submission
People love visuals more than text and it makes sharing easy for them. Visual.ly is a great place to share your infographic and visual content.  Transforming old content into an infographic and uploading it on the Visual.ly platform will definitely increase your content visibility and sharing. Make sure you keep the relevancy of your content with website guidelines.
As described on the website: "Datavisualization.ch is the premier news and knowledge resource for data visualization and infographics."
For submission, you need to approach Datavisualization.ch through the submission form. Once you filled and submit all information, their staff will evaluate the quality and relevancy of your infographic. If everything goes right, your infographic will publish in a short time.
CoolInfographics is another good place to repost your infographic by sending the original link first. When you explore the website you find "CoolInfographics.com is not a hosting site, but rather a sharing site."
So, first, share your link and wait for approval by staff as already suggested "even if we think something is a great fit for the CI audience, our backlog is significant.  It might be a while before a submission appears on the blog."