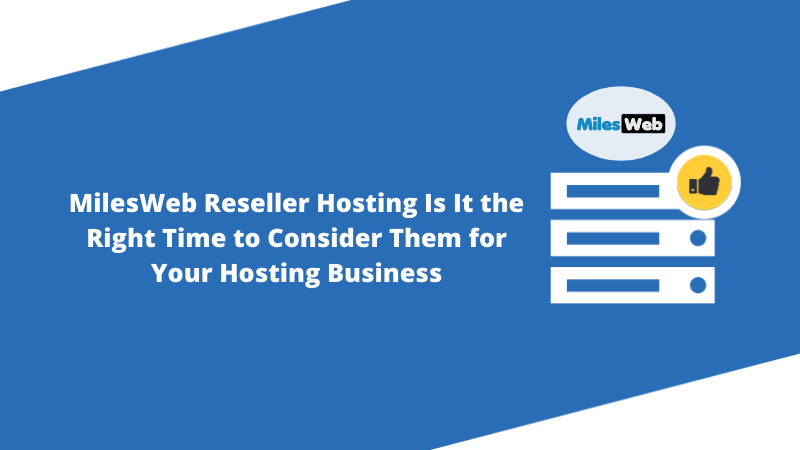 Read Time:
4 Minute, 53 Second
When it comes to reseller hosting, it is always said that a web developer or designer could surely earn more with the hosting business. But, understand that anyone that has a basic knowledge about web hosting can start a web hosting business.
Today, you know how important it has become to make your presence online. If businesses don't have an online website, they might get lost in the crowd. People are significantly considering online stores to complete their requirements.
May the requirement be of a shoe pair or something from groceries or a beauty product; people have started searching for these products online. This is because they don't have to take the effort of walking/driving to the stores to get the product. Moreover, these stores offer discounts which highly encourage potential customers to purchase online.
This means life has now completely become dependent on the online world. All the niches including the pharma, beauty, fashion, electronics, etc. have built up their online platforms to help their sales grow. It means there is a high chance of businesses getting their online websites developed. After this, they look for a good web host in the market, and just by comparing the prices and features, select a web hosting plan and host their website.
Though you aren't a web developer or designer, you can still start offering web hosting services. You simply need to have basic knowledge about the terms involved in web hosting. This is important so that you can offer proper packages to meet your clients' requirements.
So, let's check if you should now consider MilesWeb's cheap reseller hosting to start your web hosting business.
MilesWeb Intro
The three tech experts in India started MilesWeb in 2012. They found that there is some gap left by other web hosts in terms of features that aren't helping to meet the requirements of the online businesses. Therefore, they decided to offer complete web hosting solutions to their customers by configuring their servers with the latest technology. They have partnered with the largest tech companies such as Microsoft, Plesk, cPanel, Dell, HP, and Supermicro to offer enhanced technology.
They have a team to support their customers' queries. Their team has been trained properly to offer the needed solutions to their customers. Customers can contact them at any time and have two options to contact them: live chat and email. Apart from this, they have learned the importance of website availability and so ensure that your website is always running by offering you 99.95% uptime.
Though they have tried to complete the requirements of their customers, sometimes you may find that your requirements are different from what they offer. Therefore, if you feel that your online business needs aren't being met, you can claim a refund within 30 days of a service purchase.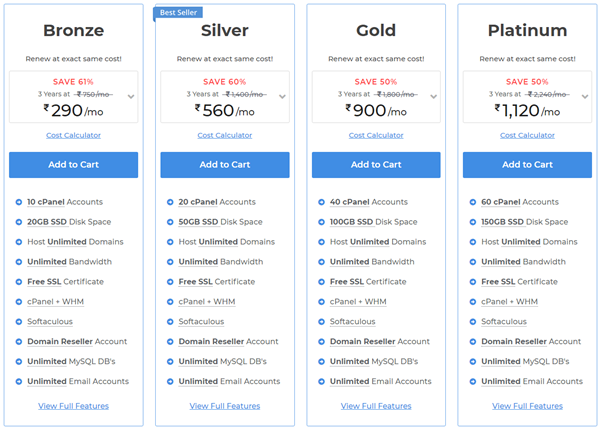 Features
WHMCS License: If you find it hard to manage the termination, billing, and daily operations of your entire web hosting process, you can buy the WHMCS license. MilesWeb has partnered with the popular automated billing platform- WHMCS. It helps in simplifying your web hosting business by offering a completely automated billing platform. You can just place the order for it while checkout and they will install it for you.
Free Migration: Migration is done at free of cost by the migration experts. Your data is also secure while the migration is done. They ensure that there is no downtime during the migration process.
Free SSL Certificate: Your website remains secure with the free SSL certificate offered by them. Moreover, it helps in improving your ranking on Google and you also gain more trust from visitors with its grey padlock.
Free Domain Reseller: Earning extra is possible with their domain reseller account. They allow you to sell more than 400 domain extensions and TLDs to earn a profit.
Host Unlimited Websites: You are allowed to host as many websites as you want to, on your reseller hosting account.
100% White Labeled: They won't display their name anywhere on your website. It means you can sell web hosting plans with your own business name.
100% SSD Storage: SSDs help to store data in a faster way. This also improves your website's performance by 200% as compared to HDDs.
Web Host Manager (WHM): It becomes easier to create and manage cPanel accounts with unlimited emails, websites, etc.
cPanel Control Panel: You can give the cPanel access to your clients so that they can manage their domains, websites, emails, and more with the easy-to-use web-based interface. Moreover, it enables you to check the disk space and bandwidth. You can suspend, un-suspend, and terminate the accounts of your clients.
One-Click Installer: You can install as many applications you want to, on your website from more than 400 applications in just a single click.
Free Website Builder: You can build a website easily with the free website builder. The simple drag and drop process makes your website development easy.
Datacenter Choice: You can select your server location as per the target audience from the global datacenter locations offered.
Malware Scan and Protection: Your website is secured from malware by scanning and removing the malware and virus.
Email Service: You can send and receive emails from your domain with their free unlimited email accounts. The webmail offers support for IMAP/POP3 email accounts that help you to access emails when you want to from your current location.
Customer Reviews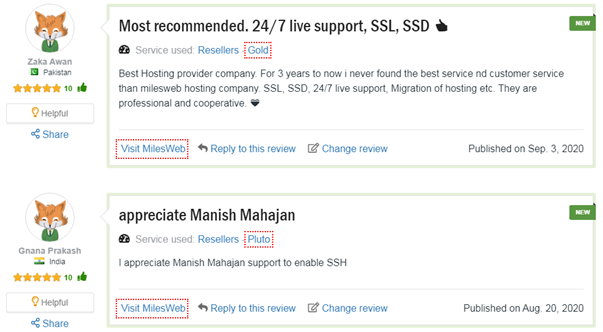 Conclusion
Thus, with so many perks offered for starting a web hosting business, you can surely consider MilesWeb to become your reseller partner. So, sign up for their reseller hosting plans and start your web hosting business instantly.